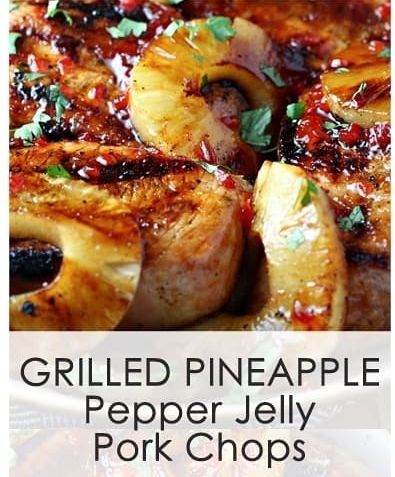 INGREDIENTS
3/4 cup + 2 tablespoons pineapple juice, divided
1 1/3 cups Sweet and Spicy pepper jelly, divided
1 shallot, thinly sliced
1/4 cup chopped fresh cilantro
1/4 cup + 1 tablespoon olive oil, divided
2 teaspoons salt, divided
4-6 pork chops (boneless or bone-in)
1 teaspoon pepper
6 slices pineapple (canned or fresh)
INSTRUCTIONS
In a medium bowl, whisk together 3/4 cup pineapple juice, 1 cup pepper jelly, shallot, cilantro, 1/4 cup oil and 1 teaspoon salt.
Place pork chops in a large, plastic bag and pour in the pepper jelly mixture. Seal bag and refrigerate for at least 8 hours, or overnight.
Remove pork from bag and discard marinade. Brush pork with remaining oil and season with remaining 1 teaspoon salt and pepper. Let stand at room temperature for 20-30 minutes. Preheat grill to medium heat.
Grill pork until a meat thermometer reads 140 degrees, about 12-15 minutes, turning once halfway through cooking time. Remove from grill and let stand 5 minutes.
Meanwhile, whisk together remaining 1/3 cup pepper jelly and 2 tablespoons pineapple juice. While pork rests, grill pineapple for about 2 minutes per side, or until grill marks form.
Arrange the pork and pineapple on a platter and brush with the pepper jelly and pineapple mixture before serving.